A unique hydraulic expertise
We participate in all project stages by offering adapted and modular solutions: from water catchment to purification for return to the natural environment, including treatment, storage, transfer and supply.
We deliver turnkey projects (from design to construction to follow-up) and develop customised solutions. We can also participate in project financing.
Guaranteed performance
No matter who our clients are (public, private or institutional), our team is committed to ensuring the perfect adaptation of structures to their needs and desired performance (technical and financial) while meeting quality requirements and environmental standards.
RAW WATER CATCHMENT AND STORAGE
To mobilise water resources effectively in response to drinking water and irrigation needs, we rely on our expertise, which includes:
design and construction of infrastructure
supply and installation of electromechanical equipment
maintenance and optimisation of existing structures
Our specialised subsidiary, Hydroplus®, can optimise spillways by installing fusegates to increase the storage capacity of a reservoir dam and increase its safety in the event of major floods. The construction of innovative inlets allows surface water to be harvested cost-effectively and reliably.
In addition, our hydraulic department designs and builds different water storage reservoir solutions.

DRINKING WATER PRODUCTION
As a turnkey developer capable of designing and building plants to produce drinking water from all types of raw water, we can meet all present and future sanitary challenges.
Our hydraulic department designs and builds customised projects, which are perfectly adapted to each situation, integrating the most effective, reliable and cost-efficient treatment procedures. We have a complete range of treatment procedures to respond to any raw water quality and deliver, in all circumstances, drinking water that meets quality standards.
We have mastered all the conventional technologies (sedimentation, filtration, chlorination) and we also offer more technologically advanced solutions (active carbon reactor: Carbosogea®, ultrafiltration membrane treatment: MBV Pure™…) to fulfil our clients' objectives.
PUMPING, TRANSFER AND DISTRIBUTION
Our expertise and experience allows us to participate in all types of turnkey pumping projects, whatever the discharge rate, pressure or pumping height.
We also install pipes of all diameters made of types of materials (cast iron, HDPE, PVC, steel…) and are skilled in all installation techniques (open cut, driving, microtunnel boring machine). We build and rehabilitate supply networks of all sizes.
Improve the efficiency on your networks:
The expertise of our WMI subsidiary in reducing non-revenue water, locating leaks, optimising metering networks, sectoring, modelling and managing customers also allows us to improve the performance of existing networks.
WASTEWATER COLLECTION AND TRANSFER
Wastewater collection and transfer is crucial for the conservation of water, water bodies and ground water tables.
We have all the expertise and skills necessary for the design, construction, rehabilitation and maintenance of sanitation networks as well as associated structures. This expertise applies to both small structures and very large-scale projects.
We are particularly skilled in all sewer and transfer piping installation technologies, be it gravity or pressure networks, using traditional installations or through driving, microtunnel boring or tunnel boring machines.
WASTEWATER TREATMENT

As the only French full-service provider of wastewater and rainwater treatment systems, we develop and offer a complete and consistent range of products and procedures so that water returning to nature complies with environmental laws.
We have developed a great number of classic water treatment plans. We have also developed new solutions to respond to present and future environmental stakes, including water reuse technologies such as the R3F™ biological process (MBBR process) and R-MES™ membrane filtration (membrane bio-reactor process).
In addition, our EcoSave® initiative, based on the complete analysis and effective monitoring of the water life cycle guarantees installations that are suitable for a controlled environmental footprint and optimised operation.
NON-REVENUE WATER REDUCTION AND SMART NETWORKS
As a player in Smart Networks development and deployment, our hydraulic department integrates engineering and intelligent systems to optimise the management of water supply and sanitation systems.
Through our WMI subsidiary, we provide modular solutions for diagnosis, optimisation, and assistance in managing water and sanitation network performance. Our skills in non-revenue water reduction, leakage location, pressure optimisation, sectoring, modelling, metering, and customer management make WMI a market leader.
WMI works with managers to apply custom solutions for data analysis, processing, and retrieval. Interoperable communications solutions that are compatible with the systems in place are given preference.
Through the management of smart networks, we can ensure greater safety, reliability, decision-making, and operational control. We offer customers better service as well as optimised environmental and financial performance.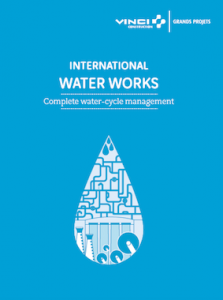 To know more about our water works expertise, please download our International Water Works brochure
Download
Download our brochure to know more about the W.M.I. expertises
Plant & equipment
Efficiency, safety and innovation.
Estimation
Engineers for fine-tuned understanding of your project.